WORLD HEPATITIS DAY 2021: HEPATITIS CAN'T WAIT
June 5, 2021 @ 8:00 am

-

July 18, 2021 @ 5:00 pm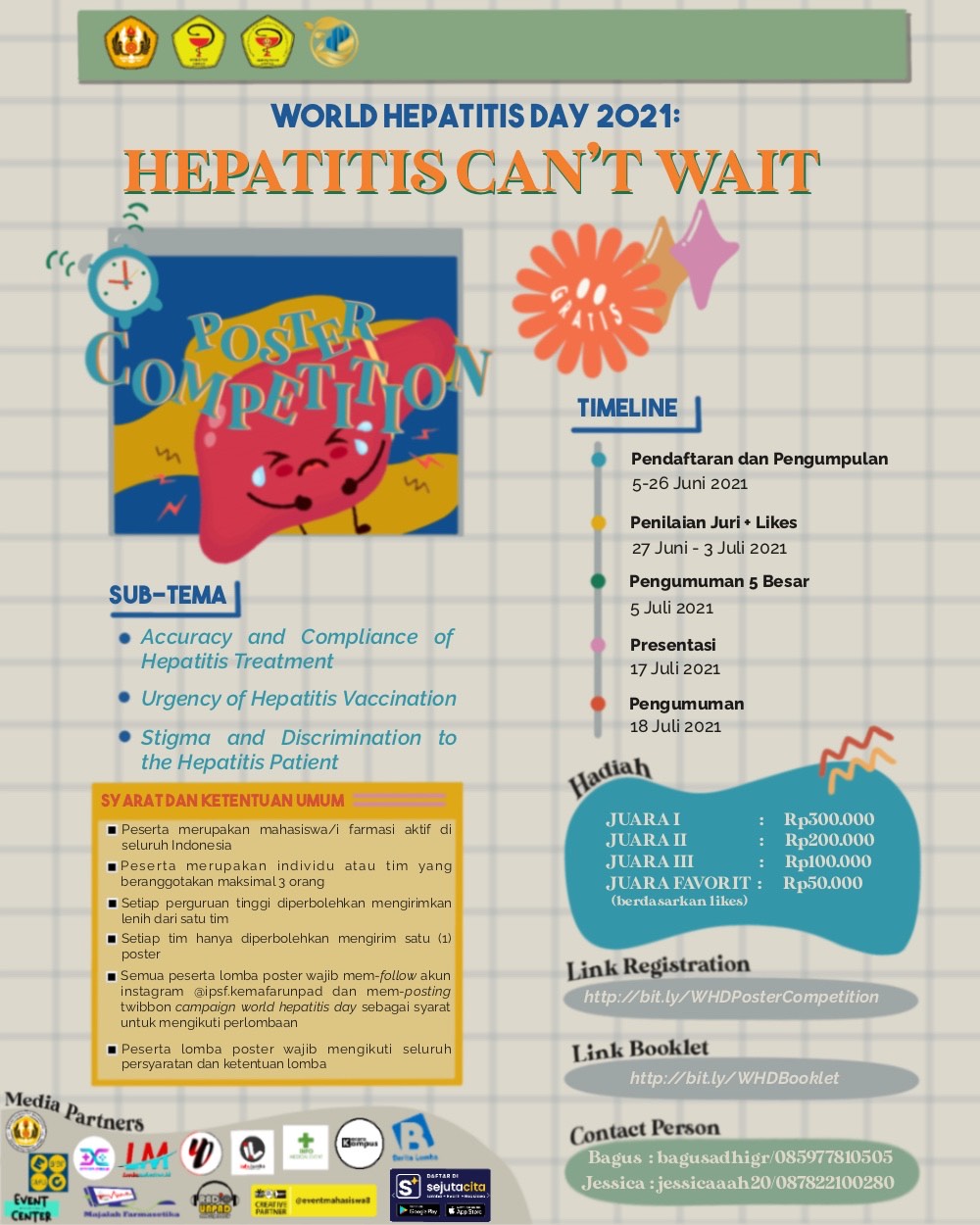 Hello fellas! 👋
Did you know that hepatitis is one of the biggest world health problems that we need to take care of? Hepatitis itself is an inflammation of the liver caused by the virus. The most common hepatitis viruses in the world are types A, B, C, and E (commonly referred to as HAV, HBV, HCV, and HEV).
Therefore, as a form of our concern for Hepatitis disease🦠 We challenge you to participate in WORLD HEPATITIS DAY 2021 Poster Competition with the theme "Hepatitis Can't Wait". This poster competition is held to raise global awareness about the dangers of hepatitis disease which is one of the world's health threats.
Register yourself at this link below ⬇️⬇️⬇️
This event is FREE for any pharmacy students in Indonesia.
all participants will get E-CERTIFICATE and have a chance to take HUNDREDS OF MONEY if you win the competition!
So, what are you guys waiting for?!
For further information, please check our booklet at the link below ⬇️⬇️⬇️
Hepatitis Can't Wait!! So Let's spread Hepatitis awareness together immediately! See you guys there!
Contact Person :
Jessica
LINE: Jessicaaah20
or
Bagus
LINE: bagusadhinagr
#lomba #lombaposter #lombapostermahasiswa #lombamahasiswa  #hepatitis
#IPSFun
#SospolShine
———————————
Departemen IPSF
Bidang Sosial Politik Kefarmasian
BEM Kemafar Unpad
Kabinet Arana 2021